Nuisance Rat Removal Services
Ask about our discounts!
Discounts available for our military and veterans!
Call Us (561) 355-9699
Rat Removal Services
Noises! Noises! Noises! It's all you hear in the attic at night. It's gotten to the point where you're losing your sleep and peace of mind! Well, it sounds like you have a rat problem. 
It's very common to have a rat problem in Florida because of the abundant water sources and plenty of places to hide. You're probably thinking, "How can this happen to me?" " I clean my kitchen every day!" There is a misconception about rat infestations that make most customers embarrassed to get help.  
Rats & Facts: South Florida is home to about 3 different types of rats. Roof rats, Norway rats, and Wood rats. 
Roof Rats are very good climbers. It's no wonder you can usually find them in the upper parts of most structures. The most common place you'll find one is above ground.  Usually, a roof rat will nest in trees, roof voids, and inside your attic or ceiling. 
Norway rats are also known as "sewer rats." These critters enjoy creeping around the basements, old piles of junk, and debris. Unlike the roof rats that are found in heights above ground, Norway rats like to live below ground. 
Woodrats are also known as "packrats" are normally found in bushes, branches, wooded heavily wooded environments. 
Rats in the attic: Every wildlife inspection starts with the attic and outside the home. Rats and mice can squeeze through any crack or crevice about the size of a quarter. 
Rat Infestations and disease: There are several ways you can detect a rat infestation in your home. You'll need a couple of items such as a flashlight, gloves, mask, and maybe a lot of nerve. Below is a list of key indicators that you have a rat infestation in your home or business. All of the items mentioned are also a way to prevent getting sick or catching a terrible infection from rodent feces. If you don't feel safe always call a professional.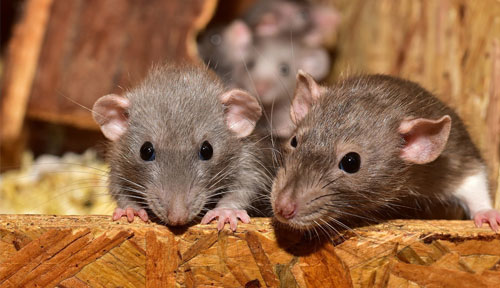 Rodent feces:

 

you can usually tell the difference between animal feces. 

Mouse droppings are generally an eighth to a quarter of an inch in length. They are also tapered at the ends and may resemble dark grains of rice
Rub marks:

 an oil like mark left behind by rodents. A good indication of a travel path commonly used by a colony of rats. Rodents always recognize familiar objects for safety. 
Nesting materials:

 dried twigs and tree branches, any chewed plastic or paper bunched up in a tight area. 
Chew marks:

 It's pretty obvious when a rodent chews on wood, plastic or even sheetrock. 
Foul odor:

 This is caused when there is high rodent activity in the home. Rodents will defecate and urinate everywhere leaving a stench behind. 
Business Hours
Mon – Fri 8:00am – 8:00pm
Sat – Sun : 09:00am – 1:00pm

Very affordable and professional. I highly recommend them! Yamil came out quickly and provided great customer service.

Yamil was great! Super quick to respond, punctual with his timing, and incredibly kind and genuine. He explained the entire process and was very knowledgeable too. Would recommend him to anyone we know needing animal removal. We will absolutely use him again in the future!

Yamil was eager to help, communicative, and prompt. So grateful he responded within minutes and did great work. Thank you Yamil!
Humane trapping & removal
help@westernwildliferemoval.com
Palm Beach & Broward Counties
Business Hours
Mon – Fri 8:00am – 8:00pm
Sat – Sun : 09:00am – 1:00pm