Nuisance Opossum Removal Services
Ask about our discounts!
Discounts available for our military and veterans!
Opossum Removal Services
Opossums in Florida – Aaah a rat! Nope, think again. What you're actually spooked by was an opossum. Opossums are actually the only marsupial in South Florida. A female opossum can have about 2 litters every year. Each of the litter can have anywhere between 6 to 12 or even 20 young babies. Due to the increased population of opossums and urban neighborhoods in South Florida, these critters are more and more prone to invading your home or business.
Opossum in the attic – Opossums are very quiet but very skilled climbers. The most common place to spot an opossum is on your fence line or mango tree. Once they find a safe place, they will find their way into your attic. If you have an opossum in the attic, don't hesitate to call a professional wildlife trapper for help.
Opossum in Yard – It's very simple to have opossums invade your yard. Opossums are attracted to items such as food, fruits, trash, etc. Especially any pet food. Fruits trees are definitely a great attraction for opossums and will keep them invading your yard throughout the year in South Florida.
Opossum in Garage/Shed – A lot of times I hear, "I have an opossum in my shed!" Perhaps you haven't re-organized that shed since last Christmas. Or maybe you needed that one tool you haven't seen in a couple of years. For one reason or another, you go to the shed and realize there is a possum living here. Sheds are great places for nuisance opossums to hide and nest. It provides a safe environment away from other predators or other critters.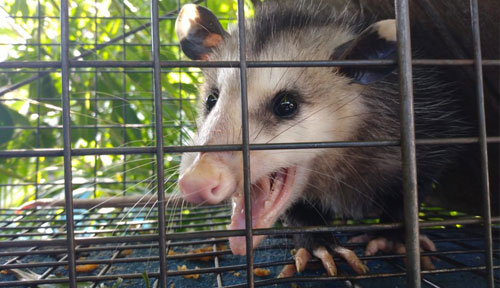 Opossum in Trash Can – Opossums love trash! Smells and odors can definitely invite nuisance opossums inside your trash can. It's important to make sure you take your trash out the night before trash day or perhaps seal your trash cans properly in order to keep unwanted critters from making a mess of your home. Sometimes that's not enough and opossums will have their way. In that case, you can call a wildlife trapper for help.
Opossum under house – Crawl spaces are another safe haven for opossums. Like raccoons and other critters, this is the perfect hiding place or nesting ground for an opossum(s). Just like noises in the attic, you can also detect noises under your home from any kind of wildlife critter invading your home.
Business Hours
Mon – Fri 8:00am – 8:00pm
Sat – Sun : 09:00am – 1:00pm

Very affordable and professional. I highly recommend them! Yamil came out quickly and provided great customer service.

Yamil was great! Super quick to respond, punctual with his timing, and incredibly kind and genuine. He explained the entire process and was very knowledgeable too. Would recommend him to anyone we know needing animal removal. We will absolutely use him again in the future!

Yamil was eager to help, communicative, and prompt. So grateful he responded within minutes and did great work. Thank you Yamil!
Humane trapping & removal
help@westernwildliferemoval.com
Palm Beach & Broward Counties
Business Hours
Mon – Fri 8:00am – 8:00pm
Sat – Sun : 09:00am – 1:00pm