Nuisance Bee Removal Services
Ask about our discounts!
Discounts available for our military and veterans!
Call Us (561) 355-9699
Bee Removal Services
Bees can provide limitless benefactors to our ecosystem and plant life in South Florida. However, sometimes we can encounter problems where bees decide to build a colony in your home or business. At that point, they are deemed dangerous and a nuisance to Urban neighborhoods. The most common type of bees we deal with in South Florida are Honey Bees and Africanized Honey Bees aka "killer bees."
Bee removal can be tricky and dangerous depending on where the bee hive or nest is located. Prices for bee removal services may vary due to the various factors involved to remove honey bees from your home or business. Below you can see a list of reasons that can change the price of beehive removal and control.
What type of bees: Africanized Honey Bees or European Honey Bees
Size of bee colony
Location of bee hive
Height of home or business
 ACCESSIBILITY:
Bee Nest or Hive: Africanized bees usually have some weird places to nest vs your typical European honey bees. Some of these places include old car tires, under-meter boxes, holes in the ground, mostly at the base of trees, junkyards, under mobile homes, and in your attic. European honey bees pick more regular areas such as trees, tree stumps, or wall cavities of your home or business. Colonies for Africanized bees are much smaller so it makes sense why they are found in such odd places. If you come by a bee nest or hive make sure to keep your distance. Africanized Killer bees can sting multiple times vs your honey bee. Always call a bee removal expert if there is a beehive causing imminent danger to you and your family members. Keep children indoors when beehives are startled.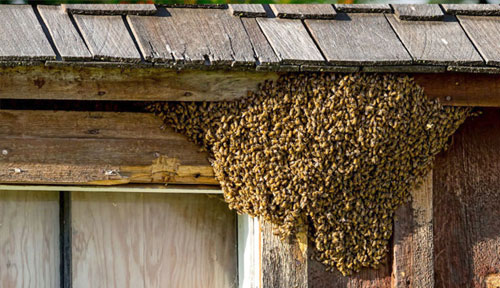 List of places for Bee Hives to be located:
Wall cavities
Attic
Under Soffits
Meter Can
Under Home or Mobile Home
Crawlspaces
Underground
Trees and Bushes
Old tires
Junk cars or junkyard
Business Hours
Mon – Fri 8:00am – 8:00pm
Sat – Sun : 09:00am – 1:00pm

Very affordable and professional. I highly recommend them! Yamil came out quickly and provided great customer service.

Yamil was great! Super quick to respond, punctual with his timing, and incredibly kind and genuine. He explained the entire process and was very knowledgeable too. Would recommend him to anyone we know needing animal removal. We will absolutely use him again in the future!

Yamil was eager to help, communicative, and prompt. So grateful he responded within minutes and did great work. Thank you Yamil!
Humane trapping & removal
help@westernwildliferemoval.com
Palm Beach & Broward Counties
Business Hours
Mon – Fri 8:00am – 8:00pm
Sat – Sun : 09:00am – 1:00pm