Nuisance Raccoon Removal Services
Ask about our discounts!
Discounts available for our military and veterans!
Call Us (561) 355-9699
Raccoon Removal Services
Raccoons in Florida – Many times humans perceive raccoons to be this cuddly critter that you would see on the TV or your famous Disney movie "Pocahontas." We don't stop to think about what they eat, what diseases raccoons can carry, how dangerous it is to feed or be near a raccoon. In South Florida, we usually have the same weather all year round and this makes a great home for these animals to flourish.
Raccoons in the attic – The number one and most common place for raccoons to find safety is under your home or in your attic. Raccoons inside your attic can become extremely dangerous, especially when they are nesting. You should never attempt to enter an attic where a momma raccoon has babies. Raccoons will attack and they are not scared of showing it! You should call a trained and skilled professional to handle your raccoon removal needs. 
Raccoon in Yard – Raccoons are nocturnal animals and like to creep around in your yard at night. If you see a raccoon in your yard during the daytime, don't be alarmed!  You may still want to call a professional nuisance wildlife trapper. This is pretty normal for a raccoon that is looking for a new habitat. Sometimes momma raccoons have to feed more due to caring for their young. But, if you see a raccoon acting strange or bizarre, this is a good indicator that it may be sick or have rabies. Always call 911 first if your life is in imminent danger. Do not attempt to catch a raccoon without property training!
Raccoon in Garage – Peek-a-boo, I see you! Raccoons love to sleep in your garage, boat, or shed if they can gain access. Most of the time we leave a garage door open and this is where these pesky critters take advantage. Always keep the door closed properly and make sure not to leave your garage door open. Once inside, a raccoon can cause havoc to your home and property!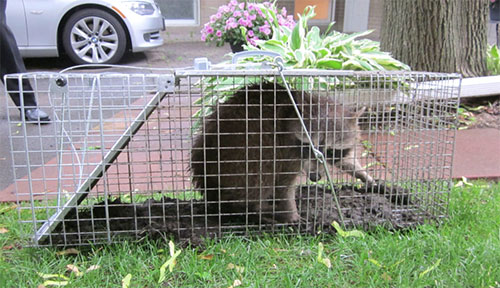 Raccoon in Trash Can – Smells and Odors can definitely invite raccoons inside trash cans. It's important to make sure you take your trash out on the night of trash day or perhaps seal your trash cans properly in order to keep unwanted critters from making a mess of your home. Sometimes spraying raccoon repellents on your trash can will work, but it's also true that "Wildlife will be wild" and there's no guarantee it may work. 
Raccoons under a pool deck or house – Another notorious place for raccoons to hide is under your pool deck and under your home. It is always a good idea to seal up any entry points under the home in order to keep any and all critters out. Raccoons enjoy being near pools to get a drink of water on a hot summer day or use your pool and deck as a raccoon restroom. Raccoons like to defecate in shallow water. They typically prefer to be hidden under your home as opposed to going inside your attic due to the temperature.
Business Hours
Mon – Fri 8:00am – 8:00pm
Sat – Sun : 09:00am – 1:00pm

Very affordable and professional. I highly recommend them! Yamil came out quickly and provided great customer service.

Yamil was great! Super quick to respond, punctual with his timing, and incredibly kind and genuine. He explained the entire process and was very knowledgeable too. Would recommend him to anyone we know needing animal removal. We will absolutely use him again in the future!

Yamil was eager to help, communicative, and prompt. So grateful he responded within minutes and did great work. Thank you Yamil!
Humane trapping & removal
help@westernwildliferemoval.com
Palm Beach & Broward Counties
Business Hours
Mon – Fri 8:00am – 8:00pm
Sat – Sun : 09:00am – 1:00pm