Nuisance Iguana Removal Services
Ask about our Discounts!
Discounts available for our military and veterans!
Iguana Removal Services
Where did the Green Iguana come from? The Green Iguana or "American Iguana" are an invasive species that was introduced to Florida in the 1960s. This nuisance wildlife animal has been around for a while and its population continues to grow!
Are they dangerous? Well, it all depends. Green Iguanas do not pose a direct threat to humans unless they are cornered or mishandled. If you spot an Iguana in your yard please call an experienced wildlife removal specialist for help. 
Do Iguanas spread disease?  – Overall, Iguanas are like the "Green Rat" of south Florida. They can spread rather quickly and be very difficult to remove. These green exoctic critters can be very pretty to look at sometimes but also very disgusting when they get out of control. Iguanas carry "salmonella" in their intestinal tract which can be very harmful for humans and pets. Iguanas can defecate and it is said that they can defecate at least 8 ounces of feces a day. 
Iguanas on the roof – If there's one place Iguanas love to sunbathe is on your roof. South Florida is also known as the "Sunshine State," and it's no wonder these critters flourish so well here. For the most part, there are thousands of homes in Florida with "Spanish Style" roof tiles and this creates a hot plate for the Iguanas to lay on during the hot summer days for digestive purposes.
Iguanas in attic – Eventually when Iguanas decide that the sun is gone and it's time to go indoors, it becomes more common for Iguanas to enter your attic and inside of your home.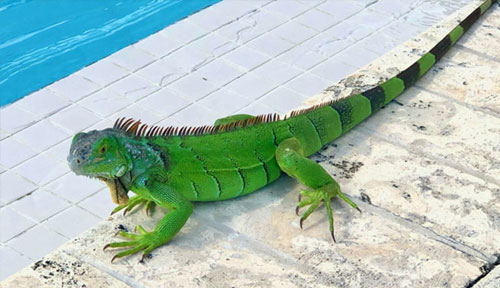 Iguanas in pools– Iguana infestations usually start in or near a body of water. Pools are a perfect environment for nuisance iguanas to grow a colony and begin nesting. Iguanas will dig holes near your pool deck or your seawall to start laying eggs. One female Iguana can lay up to 70 eggs, twice a year. This can become a real nuisance when no iguana control measures are in place. 
Iguana Removal & Extermination – Overall, Iguanas can be very destructive and unsanitary for humans. Nuisance Iguanas can cost homeowners and condo associations millions of dollars a year in damage and repair. This doesn't include the amount of money spent on iguana control for landscaping and gardening along Florida's coastline. If you need Iguana Control and Removal please contact Western Wildlife Control for help. 
Business Hours
Mon – Fri 8:00am – 8:00pm
Sat – Sun : 09:00am – 1:00pm

Very affordable and professional. I highly recommend them! Yamil came out quickly and provided great customer service.

Yamil was great! Super quick to respond, punctual with his timing, and incredibly kind and genuine. He explained the entire process and was very knowledgeable too. Would recommend him to anyone we know needing animal removal. We will absolutely use him again in the future!

Yamil was eager to help, communicative, and prompt. So grateful he responded within minutes and did great work. Thank you Yamil!
Humane trapping & removal
help@westernwildliferemoval.com
Palm Beach & Broward Counties
Business Hours
Mon – Fri 8:00am – 8:00pm
Sat – Sun : 09:00am – 1:00pm